How to find us
Pforzheim is a medium sized city in southwest Germany, some 50 km west of Stuttgart.
In another area of Pforzheim are the following airports: Stuttgart (50 km), Karlsruhe-Baden Baden Airpark (also about 50 km away) and Strasbourg (France) (about 100 km away).
Directions
Parking
Route Planning
Train
Taxi - MiniCar
Bus
Praxis Dr. med Wolfgang Klemann Leopoldstr -. 17 - Input Enzarkade (Am Schlossgatter)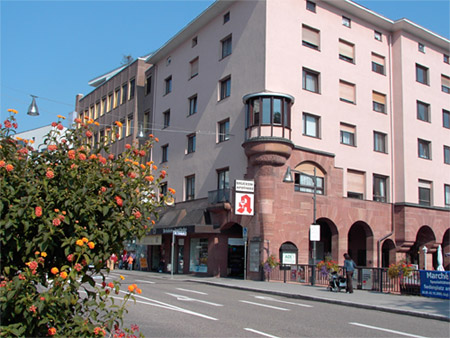 Directions
Our practice is located near the pedestrian zone Leopold Street.
From Leopold Square (center), the Leopold Street southerly direction to go in (200 m), Zerrenerstraße cross the bridge and on to the website (20 m). Just before the bridge on the left side are the Enzarkaden. The practice can be found on the bridge pharmacy (now a hair salon) on the first floor (entrance Enzarkade).
Parking
Charges:
Jörg-Ratgeb Street: 1 minute walk Parking garage Schober: Zerrenerstraße 2 minute walk Theatre Underground: Zerrenerstraße 2 minute walk City Hall parking garage: Zerrenerstraße 4 minutes walk Turn place: (except Wed and Saturday morning) 4 minute walk
Toll Free:
Measuring station: 10 minutes walk
Route Planning
www.pforzheim-anreise.de www.routenplaner.de www.map24.de
Train
Travelling by train: http://www.db.de
Taxi - MiniCar
Arriving by taxi / MiniCar http://www.minicar-pforzheim.de/
Bus
Arriving by bus Bus Pforzheim http://www.vpe.de